Are We Close to the Bottom yet? - Major Strategy Update
by Miyagi · 02/19/19
0
On the 14th November 2018 Bitcoin broke its key support at 6000 USD. At this moment the most famous cryptocurrency has been trading slightly above 3000 USD for almost 3 months. Decreasing volatility has created a very wide consolidation range between support at 3200 USD, and resistance at 4500 USD. However, more and more indicators show that the BTC price has found its bottom.
While a lot of investors fear further dumps, Bitcoin is gallantly fighting to keep support at the key 3200 USD, and a bullish scenario is backed by the MACD oscillator.
Observing the weekly chart, you can also notice the bearish trend slowly fading away. When BTC plummeted in the past December to the level of 3200 USD, MACD had a very high value, causing divergency. Such discrepancy is usually a sign of bear exhaustion and often can mean a near trend reversal.
It's worth noting that this pattern has happened to Bitcoin before – during the 1100 USD bull run. What happened after was the harsh correction down to 150 USD, when MACD also indicated divergency. It is then quite likely that the history will repeat itself, and BTC will start a slow bull run within the next few months. Watch for the EMA21 Average, because crossing it would mean a more long term trend reversal.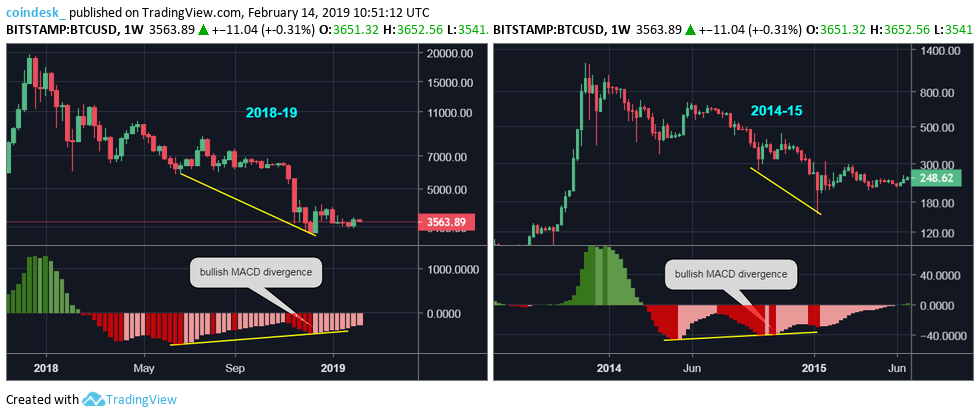 In H4 the closest resistance was 3735 USD (which has just been broken), where the inverted head and shoulders patters has been formed. Breaking it means that we will now test the psychological 4000 USD. If we break above 4k, then we will likely test 4.5-4.7 and finally 5k. In case of a fail attempt at 4k, the last year's lows at 3200 USD will be within reach again.
One thing is for sure - with the increase of volume my 35% we have immense buying pressure at 3k levels that could very well lead to short term bullishness.
Hold your horses just yet. TA is the game of probabilities and nothing more. Keep also in mind that we haven't really witnessed real desperation yet (at least not in our opinion, even though we were very close). Despite the highest volume since May 2018, there are still a few facts that look very bearish for the overall price of Bitcoin:
- Bitcoin tweets are still very low, very bearish for the price.
- all those people who are supposed to get in, have been either burnt or have been here. It will take a lot of time to suck new money into crypto, and we need the Fomo money for that bull run to start.
- volatility is still low. Speculation and greed must awake again in those people.
- majority of people, (poor or rich), don't care about decentralization, blockchain, self-sovereignty, privacy, or libertarian ideas. Money is all they care about.
- we need a complete price exhaustion from everyone except the absolute true believers. More people will sell when they realize that this winter will last for even longer than they thought, or that they can potentially buy back in later & lower. Transfer the coins from the weak hands to the strong hands who don't sell no matter what.
- add to all this the overall weakness in the global macroeconomy & bitcoin still being perceived as a risk/speculative asset.
- this bear market will last probably for longer. Those that are building, learning, studying right now will be handsomely rewarded in the following years.
Therefore, we are afraid we may see one final pulldown. That would also mean the whole Market Cap to go below that psychological 100 bln USD. Only after that we will see a long period of consolidation and finally, a new bull run.
We will be ready for both scenarios.
As we left the market near the 7k mark, it's safe to enter BTC everywhere below that mark.
Wait for 4K break and if it happens make your first re-entry.
Other buy target will stay lower for now with the flexibility to adjust at any time.
n order to catch potential short term bullishness you might want to go back to crypto with the majority of your portfolio but WATCH CLOSELY disregarding lower buy target in the current moment.
By doing this we have already beat the bear as we own more BTC than we did before.
If the strategy is unclear ask @mcjonny on Telegram.